LOL...long time between blogs...but I haven't been idle....am back to finally post my layouts from last week. I'll start off with a couple more layouts for Jeromel's ABC album.
Q for Quiet time....Jeromel suffers from excessive ear wax in his ears...his ears are not self cleaning at all. When he was little...he had speech problems....he couldn't say F and S and had to have intensive speech therapy. It was found out that he had loss of hearing....nothing major....just that his ears were chockablock full of wax. I swear...the ENT dude pulled out wax plugs nearly an inch thick.....of clean white wax...like candle wax....I had my own little Shrek!!! Anyways....to keep his ear canals clear....we have regular ear candling sessions...which Jeromel really enjoys.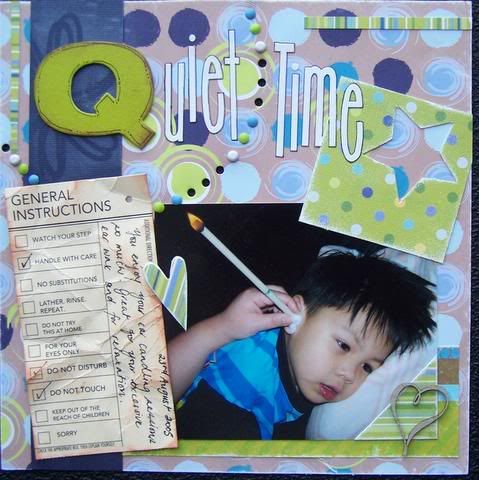 R for ride....first time riding after his training wheels were taken off his bike. He was quite excited about the prospect of them coming off....but wasn't quite ready for Daddy to let go of him.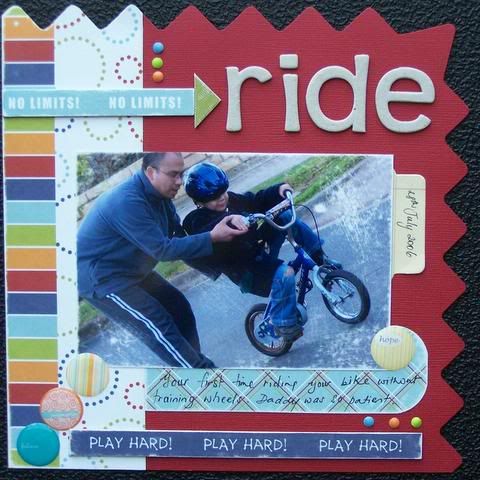 Oh...this layout...I absolutely adore. I made it through the first round of the Effer dares and the next challenge was to do a layout using exactly 13 photos....gosh...as if I haven't done enough multiple photo layouts lately!!!
We have this gorgeous magnolia tree on our front yard
..a truly magnificent tree....full of green leaves in summer, autumn starts growing flower buds and leaves go brown and drop off, winter...the flowers bloom (no leaves on the tree)....so just big magnolia blossoms....then by spring..the flowers have fallen and the tree is bare naked.

Jeromel has taken a liking to this tree because it's the right size for him to climb and being 5...he's very much into climbing trees. So I decided to capture his antics and the blooms on the tree. The photos were taken over about 2 weeks...so the tree is in various stages of bloom.

For this challenge....I decided to use my hambly overlay and my Kodomo Inc paper....it took me a long time to align the photos so that the swirls weren't covering up Jeromel's face...and it's a simple layout...but I adore it. And I didn't get through to round 3 of the Effer dares.....competition was very stiff and the layouts that progressed were fantastic.