Few more layouts for Jeromel's ABC Album
M for Monkeying Around with boots the monkey (from Dora the Explorer)......we caught him giggling when he was supposed to be asleep....his excuse....Boots was being funny and telling him jokes and keeping him awake.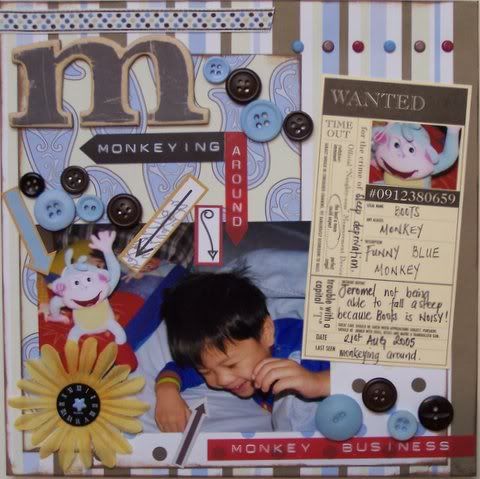 N for Naybe. Jeromel has very cute Jeromel-ish .....he says Naybe instead of Maybe and he says berember instead of Remember.....and let's not forget I'm a magenius. Very cute sayings.
O is for orange. This was his favourite favourite jumper last year. Photo was actually taken at a Ted's camera store when the salesperson was demonstrating a camera and printer dock....so I got this photo of him.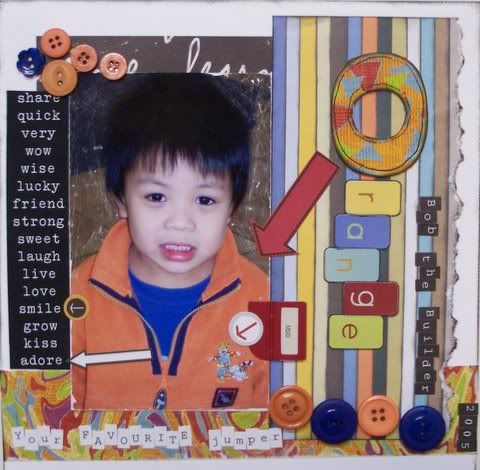 P is for Peanut Allergy.....
You were diagnosed as being allergic to peanuts when you were only 6 months old along with dairy, egg and wheat. You've outgrown the others but it seems that the peanut allergy will be with you for a while. You've had 3 repeat tests and they've shown that you're anaphylactic which is the most severe form. We have to carry the adrenalin injection (Epipen) with us at all times in case we need it, it only buys enough time for the ambulance to get to you. You have never ever ingested peanuts but you are sensitive even to the smell and touch of peanuts. On this occasion, we had gone out to dinner for Popo's birthday and even though our food had no peanuts, there must have been trace amounts on the table or chair. You were tired after childcare and were rubbing your eyes…before we knew it…your eyes had bloated, and you were very sick. Poor darling, we hope you grow out of it.