Postie has been busy this week!!!  Noteworthy prize from Scrapbook Creations/ Bumblebee crafts arrived on Monday.  Gave most of it to Kylie for her birthday with some other non scrap stuff as well.  Vita also got a few bits and pieces when she came on Thursday.
And then on friday..the big one came.  $500 worth of Urban Lily.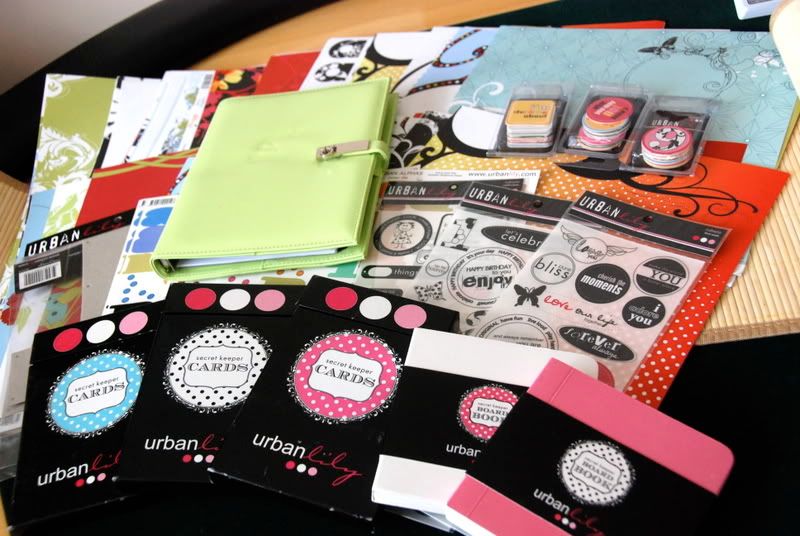 It doesn't look like much coz you can only see some of the paper.  You just don't know how much paper there is.  84 sheets!!!  Yes...I got 7 different collections....each collection has 6 sheets.  And I got 2 of each collection.  You do the maths....it equals 84 sheets of Urban Lily paper.  I totally love the board books and the secret keeper cards and there were also a couple of sugar cubes...some rub ons ...but the most prized part that I have been waiting for is the Urban Lily Journal.      Ok....I'm totally chuffed that I won the title of Scrapbooking Memories People's choice award.    I was nominated by SM and the people voted and I won and for that I'm blessed that people took the time out to vote for me.  So I didn't do this for the prize...the prize is just a bonus...a very welcomed bonus.  So I hope I don't sound ungrateful when I say this....but the one thing I was really looking forward to was the journal....and I got a reject.  The front cover has like a big vinyl 'melt' mark on it...big dinted mark and the inside of the back cover has like big black dirty marks all over the vinyl.   If I had purchased this journal and received it like this.....I would be writing to complain.  But Urban Lily donated this prize....and I won it....so I guess I shouldn't complain huh?  But my name is Ruey....I'm anal about some things.  LOL
I've had a great scrapping week.  Been doing some layouts for me...for fun.....they're busy....they're funky.  I'll be sharing them soon.
Oh...and check back coz I'll be giving away Urban Lily raks soon!!