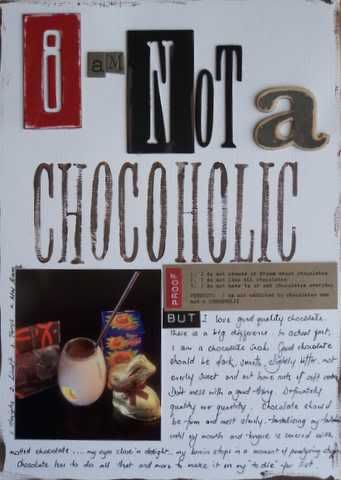 Quick little layout started yesterday and finished off this morning for a M4M challenge....had to do a layout for BOM starting with I AM NOT. LOL...after lots of soul searching....I decided to do a fun layout.
Journalling reads:

Proof:
1. I do not obsess or dream about chocolates
2. I do not like ALL chocolate
3. I do not have to eat eat chocolates everyday

VERDICT: I am not addicted to chocolates and therefore not a CHOCOHOLIC

BUT: I love good quality chocolate, there is a big difference. In actual fact, I am a chocolate snob. Good chocolate should be dark, smooth, slightly bitter, not overly sweet and not have nuts or soft centres. Don't mess with a good thing. Definately quality over quantity. Chocolate should be firm and melt slowly, tantalising my tastebuds until my mouth and tongue is covered with molten chocolate...my eyes close in delight...my brain stops in a moment of paralysing stupor. Chocolate has to do all that and more to make it on my 'to die' for list. 1.Haighs 2. Lindt 3. Terry's 4. Max Brenner's


This was such a fun layout to do....I HAD to buy props for my photo....lol...luckily I already had my Max Brenner's chocolate drops for my suckao....so just had to get a Terry's orange and a Lindt dark chocolate bunny as easter pressies for hubby and me! LOL...not enough time for a mad dash into Haighs to pick up some chocs for the photoshoot. When I was setting up for my photoshoot....Joseph had to come over and start directing...so I left him in charge of the photoshoot...with specific instructions to make sure that in the photo...can see the glow of the candle and the hot chocolate in the suckao. Being the perfectionist he is...he got out the big camera tripod...adjusted lighting....and 20 mins later....I had toooo many photos to choose from and an overly hot hot chocolate. LOL...was nice that he got involved and helped me with my layout.

Truly though....I am not a chocoholic......I like very few chocolates and am ultra fussy.......I can talk chocolate with you for hours........but when I go out.....I choose coffee over hot chocolate (maybe ordered hot chocolate only about 6 times in my life). I would choose tiramisu, pavlova, sticky date pudding over chocolate cake. I've never had a chocolate fondue or anything from a chocolate fountain.....because ....I think...the chocolate can't be that good if they can melt so much of it. Hahaha....tee hee...and those things are usually milk chocolate...not my choc of choice. I would choose to have a small square of fantastic dark chocolate than a bar of milk chocolate. For milk chocolate...my one and only weakness is a Whittaker's Peanut Slab. Since my son is allergic to peanuts...it is something that I haven't indulged in for a long long time.

Am I fussy???????????