After a big catch up with chores and other obligations, and finding mojo, I finally got a chance to scrap on Sunday....just two simple layouts...GG scraplift challenges for M4M.
These photos were taken and printed in October and have been on my scrapping table since that time. Finally got a chance to scrap them and at the same time use up some of those Z chipboard alphas that have been accumulating. There is some hidden journalling in the matchbook on the top right hand corner. It talks about how Jeromel was still sucking his thumb at 4 years old. He was learning not to suck his thumb to go to sleep...but when he is in a deep sleep....his thumb finds it's way back into his mouth. He's so cute. He doesn't suck his thumb anymore...so those photos are quite precious.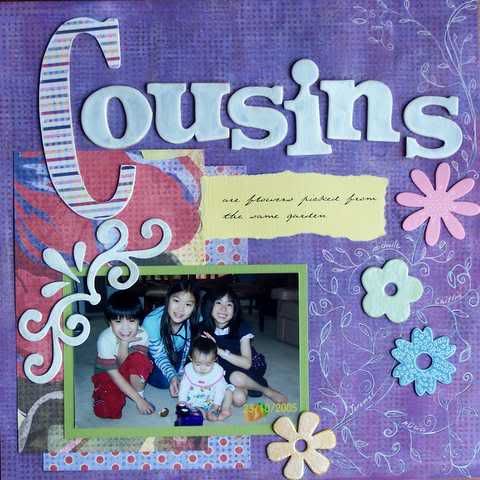 I've also had this photo for a very long time and found it hard trying to scrap a boy with 3 girls...I didn't have very many girly embellishments and wasn't comfortable with doing a boyish page when the girls outweigh my handsome little one. And....I also wanted an excuse to go out and buy those girly stuff....tee hee....I had a lot of fun doing this page and making it funky and colourful. I found it soo therapeutic to doodle.